AMX / nothng eBike - User Manual
1.0 Guide to the User Manual
1.1 Warnings
There are several warnings in this guide to alert you to items that need special attention. Pay particular attention to the steps or text with these warnings as the consequences of ignoring these will not be repeated.
When we refer to 'AMX' or 'Your AMX' this means all variants of the AMX. These are AMX CLASSIC, AMX STEP and AMX MINI. All warnings apply to all variants.
DANGER! This warning identifies specific areas that could cause a hazard with a high degree of risk. Serious injury or death could occur if these warnings are not adhered too.
Caution! This warning identifies items that have an amount of risk regarding damage to your property or the environment.
Information. This symbol lets you know about areas that require specific attention regarding how to handle your AMX or specific instructions that need extra attention.
Further to this, when undertaking the installation of bolts or screws, note the turning direction.
To tighten a screw, bolt or nut you should turn clockwise.
To loosen a screw, bolt or nut you should turn anti-clockwise.
Any deviation from this will be clearly labelled.
2.0 AMX Component Overview
2.1 AMX CLASSIC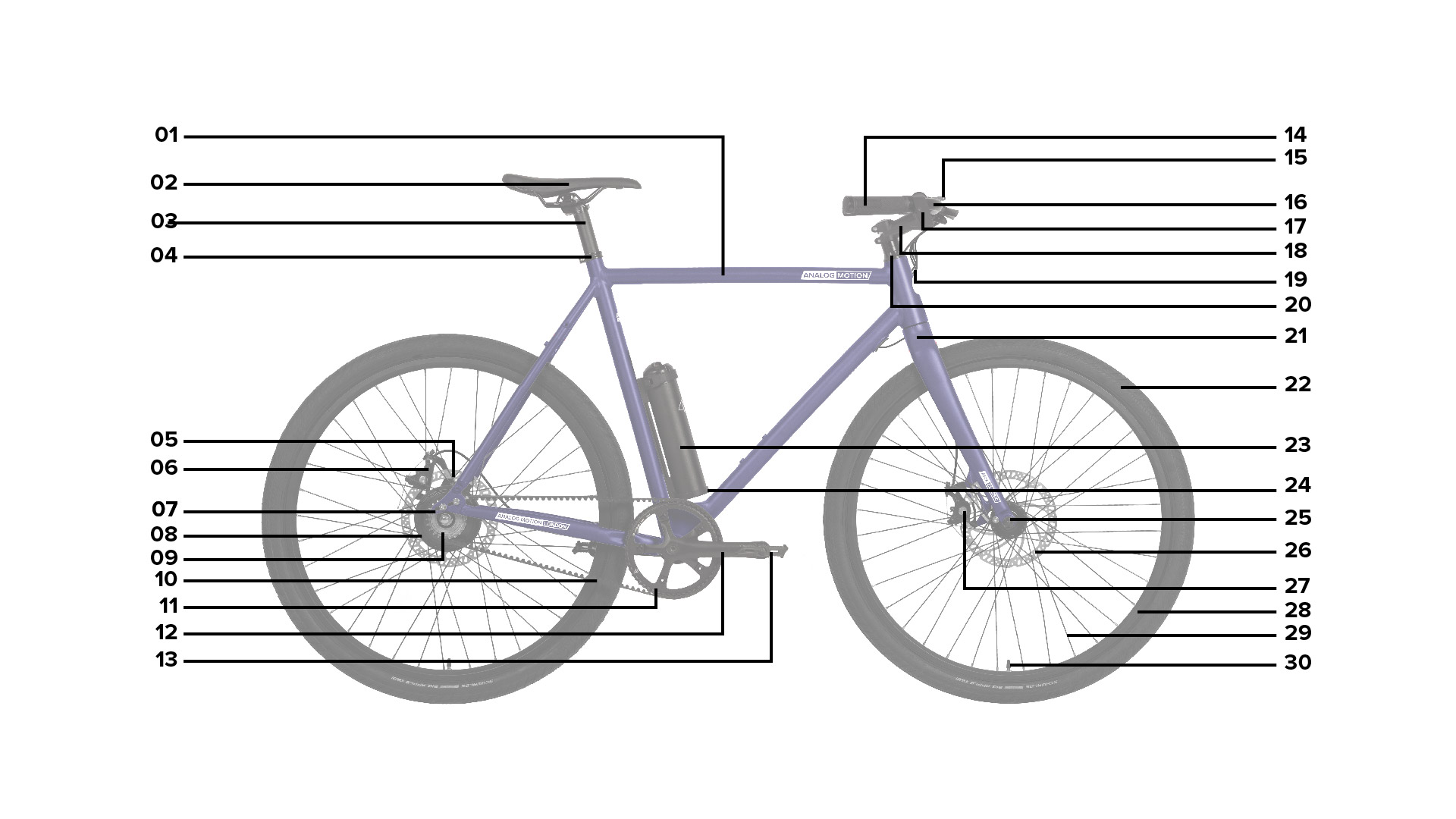 2.2 AMX STEP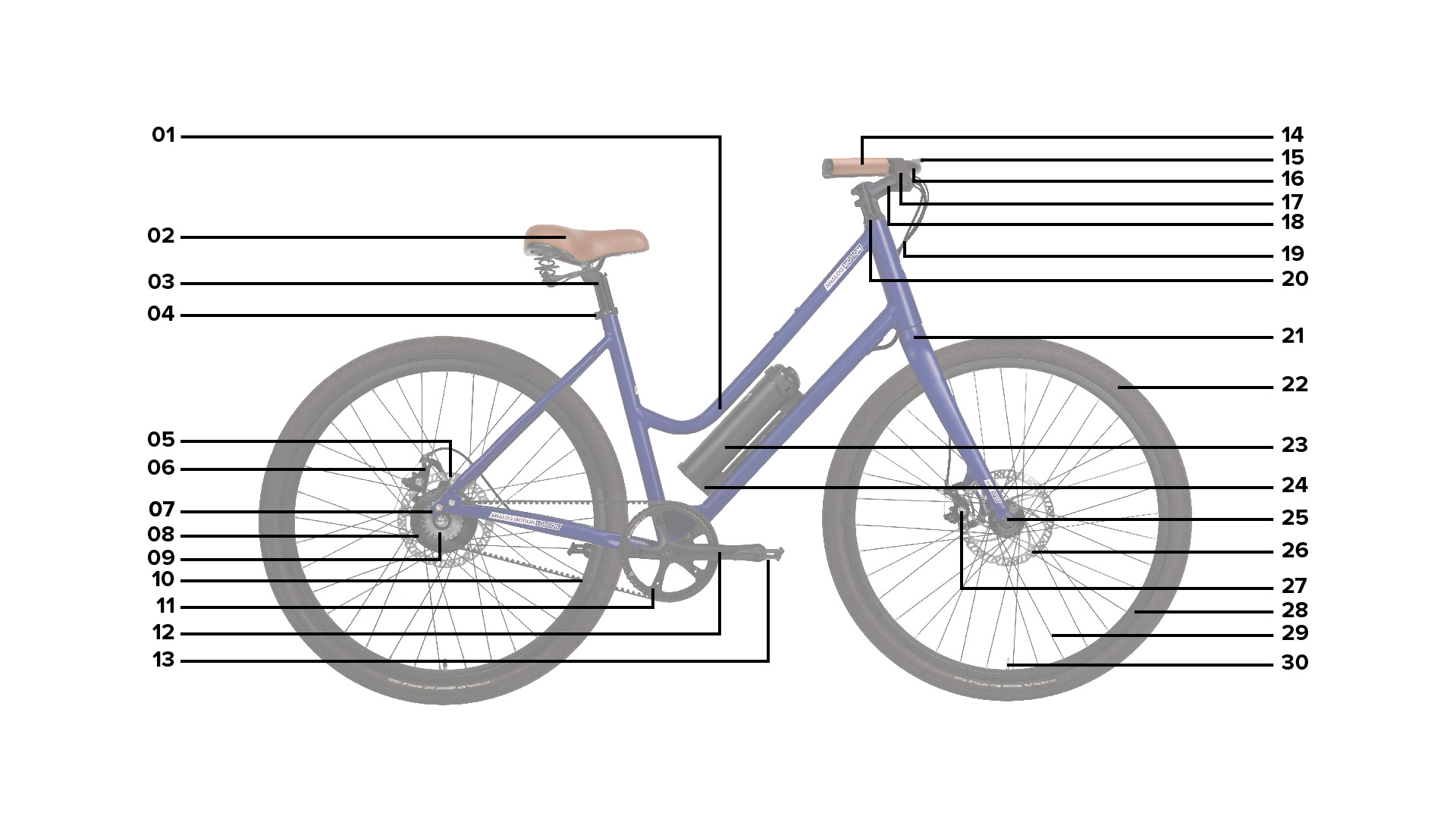 2.3 AMX MINI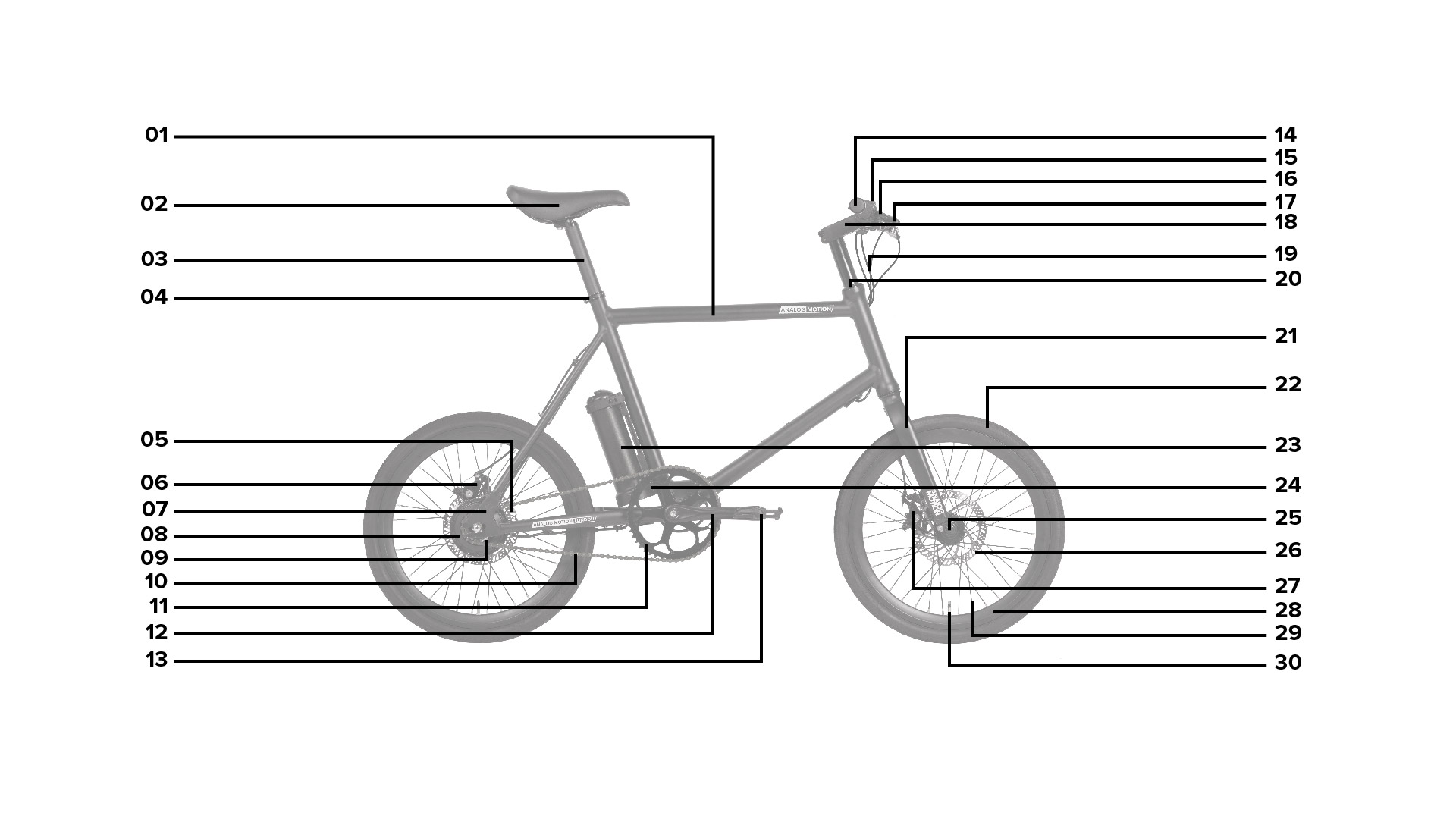 AMX STEP Frame
AMX STEP Saddle
Seatpost
Seatpost clamp
Rear disc brake rotor
Rear brake caliper
Rear dropout
Rear motor
Freewheel
Belt (Chain for non-LE models)
Crank ring
Crank arm
Pedals
Handlebar grips
Display

Handlebar
Brake lever
Stem
Loom
Headset
Fork
Tyre
Battery
Controller
Front hub
Front disc rotor
Front brake caliper
Rim
Spoke
Inner tube valve
3.0 Definition of an electric bicycle or pedelec
Pedelec explanation - Applicable to all regions
The AMX range of electric bicycles may also be referred to as pedelecs. The motor in your AMX will provide assistance up to a maximum speed of 25km/h (15.5 mph) when you pedal. The AMX also has a walk assist throttle, which will assist your AMX up to 6km/h (4 mph). Using the throttle to achieve speeds in excess of 6mk/h (4mph) must be off public roads only.
|Caution! Be careful to check all of the following points before riding your AMX on public roads.
Find out what category your pedelec falls into in your country. Note that regulations vary from country to country.
Familiarise yourself with any national and regional road regulations that apply.
Any regulations that apply may change from time to time. Make sure you keep up to date with changes to the laws in your country.
Never tamper with the speed of your AMX. This can have not only serious legal consequences, but could lead to injury as a result of accidents.
4.0 Usage of your AMX
The AMX range of electric bikes is intended for use in cities. The development of our bikes was specifically for this purpose and they have been tested only for this intended use. To ensure your safety when using your AMX do not use it for any other purpose.
The AMX range of electric bikes is intended for use on well maintained hard-surface roads or bike paths. The maximum permissible weight when using an AMX is 125kg. This includes the rider with clothing and any luggage. The weight limit can be limited further by specific components. If you choose to change any of the components on your AMX, this maximum permissible weight may change and it is your responsibility to adhere to this.
DANGER! No Analog Motion electric bicycles are approved for mounting child carriers. Any use of child carriers is at your own risk.
DANGER! No Analog Motion electric bicycles are approved for towing a trailer of any kind. Any use of trailers is at your own risk.
5.0 Key differences between an AMX and a normal bicycle
Caution! Be very aware of rapid acceleration or unexpected extra speed or activation of the assist. Any movement of the pedals could cause your AMX assist to activate. You must always turn off your AMX assist before pushing or walking with your AMX.
Take extra care in unusual or unexpected road and weather conditions.
Frost, snow, dust, loose gravel or fallen leaves can be an additional hazard with the electric assist of your AMX.
Ensure you always use the appropriate amount of motor assist by selecting low or off when you are unsure.
Although your AMX is similar to non electric bicycles, it has some key areas that differ which will require extra attention and awareness when riding and maintaining your AMX.
Due to the motor in the rear wheel and the extra weight this adds, your AMX will handle differently from other bicycles or electric bicycles you may have experienced.
The electric assist will only deactivate if you stop pedalling or you apply the brakes.
Your AMX brake pads will require more frequent maintenance due to higher average speeds and the increased weight over a normal bike.
The electric assist will allow you to ride at higher speeds. Make sure that it is always safe to do so, and be aware that other road users may not be used to the added speed of your AMX.
The battery and charger require a level of expertise as does the riding of your AMX. Make sure you are familiar with all of the features of your AMX before your first ride and be aware of the key differences detailed above. Please read everything carefully before riding your AMX even if you have experience with other electric bikes.
6.0 Checks before your first AMX ride
Check 1 - Concentration and fitness
Riding a bicycle in a city requires a level of concentration and fitness that may be more than you are normally used to. Make sure you are completely familiar with all of the functions of your AMX before you use the electric assist and before you head out onto busy roads. We would recommend practising in a quiet area or park where cycling is permitted.
Check 2 - Braking
Make sure you are happy with the brakes and the way you have set them up. If you are unsure for any reason, contact our team or take your AMX to your local bike shop.  All AMXs are equipped with the latest brakes and these may be far more powerful than any bike you have ridden before. Be careful before using 100% power on your AMX brakes!
Check 3 - Sizing and set up
Make sure your AMX is set up properly for your height and reach. Make sure your feet can reach the pedals and the saddle is not so high that you cannot reach your heel to the pedal when the pedal is in its lowest position. Also check your feet can reach the ground when you are standing off the seat. Make sure there is enough distance between the top of the bike frame and your crotch so you can get off your AMX quickly if you have to.
Check 4 - Intended usage
As covered in the previous section, your AMX is designed for city use on well-paved hard road surfaces. It is not designed for use on uneven or soft terrain, downhill trail riding or jumping, tricks or stunts. Make sure not to exceed the weight of 125kg when using your AMX.
7.0 Overall safety
The following points will cover:
Operation safety notes
Best practice for reducing risk when riding
Care and precautions with the AMX battery
Even by following all the notes in this guide, riding a bicycle is still a dangerous and unpredictable activity. The same risk still remains with the battery. Even if you follow all of the precautions in this guide, the battery can still be dangerous.
Carefully read over this section so you are prepared in the case of an emergency.
General Operation Safety
DANGER! Carefully read about the local road laws and requirements to use your AMX on public roads. Failure to do so could lead to an accident or injury.
DANGER! Only have your AMX repaired by trained bicycle mechanics. If you have any issues with the electrical aspects of your AMX, contact our support team. If you have someone untrained to work on your AMX to repair it, it could lead to malfunction or accident and subsequent injury.
DANGER! Be aware of the danger to children and people with reduced physical, mental and sensory limitations.  People without the required expertise will also be at a higher risk of accident and injury from using an AMX.
Anyone using your AMX should be fully aware and capable of dealing with the risks of riding an AMX.
They should read this guide fully before using your AMX or the battery and charger.
Never allow children to use or play with your AMX.
DANGER! Always wear a suitable and well fitted helmet when riding your AMX. Failure to do so could result in injury during an accident.
Caution! Carefully observe the temperature limits when using your AMX or there is risk of permanent damage to it and the rechargeable battery.
Do not leave the battery in direct sunlight
Do not park your AMX in direct sunlight with the battery still installed.
Do not leave the AMX battery uncharged for longer than 1 month.
Do not expose your AMX battery to long periods of below freezing temperatures.
8.0 Transporting and travelling with your AMX
Caution! When moving or transporting your AMX you must avoid damage to the rechargeable battery as this could lead to short circuit or fire! The battery should always be removed from your AMX before transport.
When you have removed the battery from your AMX make sure the contacts on the battery are protected from short circuit.
Before transporting your battery make sure you have checked the regulations in your country for transporting rechargeable lithium-ion batteries. Especially if you are shipping your AMX internationally.
9.0 Transporting the AMX by car, or other means
Ensure your bike rack is suitable to carry the weight of your AMX
When you lift up your AMX be aware the centre of the weight may be in a different area than you have been used to with other bicycles.
After removing the battery, store it somewhere where it cannot be impacted, damaged, crushed or warmed up by the sun or the heating of your car.
Before taking your AMX on an aeroplane, train, ferry or other public transport means, make sure the company is aware you have an electric bicycle and you have the AMX specification to hand if required.
Always remove the AMX battery before leaving your AMX unattended in any stowage areas on these forms of transport.
On aeroplanes the AMX battery must be carried as part of your hand-luggage. You must protect the AMX battery from liquid or potential crushing.
If you are ever unsure about any regulations for travelling with your AMX and the rechargeable battery, contact the travel company or courier.
10.0 Function and Range
10.1 Function of your AMX
The electric assist on your AMX will only kick in when you are pedalling or if you use the throttle to get you up to speed. The throttle is designed to help you get the bike started after you have stopped (for example at traffic lights). The amount of help you get from your AMX is dictated by your speed and the level of effort you are putting in.
The AMX assist will help you up to a top speed of 25km/h (15.5mph). The start throttle will take you to a maximum of 6km/h (4mph). Any faster than this is not suitable for use on public roads.
10.2 AMX Range and how to maximise it
The range of your AMX can be up to 44 km or 27 miles (LE). The range will be affected by a number of rider conditions, weather conditions and a host of potential other factors. In general the more assist you are getting from your AMX the lower the range. To get the most out of each charge of your AMX battery, note the following points:
Routing
Uphill sections on your route will affect the range significantly
Many starts and stops will also affect the range. Your AMX uses the most energy to get you up to speed.
Avoid uneven or rough roads; well surfaced smooth roads will maximise the range of your AMX.
A route into a headwind will also reduce the range owing to the extra energy required to help you to reach the maximum speed.
Riding
A cadence, or pedalling rate, of 55-85 crank revolutions/minute allows the motor to work most effectively and efficiently.
Pedal as hard as possible at all times.
The higher you have the assist on your AMX the lower the range.
Avoid unnecessary loads when possible
Higher total weight (luggage + AMX + rider) will reduce range.
Maintenance/Environmental Conditions
A new and fully charged battery will give you the best range.
Regularly check your tyre pressures. A very low tyre pressure will decrease range.
Clean and maintain your AMX regularly to ensure all bearings and chains are free moving and there is no extra friction in the system.
Higher average speeds will reduce the range.
Keep your battery at room temperature before a ride for optimum battery operating conditions.
Refer to battery notes about correct storage
The battery should not be inserted into your AMX until just before you set off.
Outdoor temperatures of below 10°C/50°F and above +40°C/104°F can significantly reduce the range.
Temperature ranges outside the ones mentioned above can rapidly degrade the battery or even permanently damage it.
11.0 Rechargeable battery safety notes
Very carefully read through the following warnings. If the battery is handled incorrectly, or these warnings are not adhered to there is the possibility of death or serious injury.
DANGER! Risk of Death!
Fumes from a leaking battery or one that has caught fire can cause poisoning or fatal injury.
Do not stay in a confined space with a leaking or burning battery. Move to a safe distance and fresh air.
Risk of Explosion!
A damaged battery could cause fire or explosion.
Do not attempt to put out a battery fire by yourself. Call the fire service immediately if your battery is on fire. 
A fall or impact to the battery can cause liquid or gas to leak from the battery.
Do not ever take apart, perforate, deform or modify the rechargeable battery and its housing.
Caution! Injury Risk!
If a battery is damaged and leaking fluid or gas, you could injure your skin or eyes.
If you suspect a battery is damaged or leaking do not move it without the following; Eye protection, Hand protection, Breathing apparatus, Leather apron
Information. There is the potential for damage to your AMX motor, battery or controller.
Make sure to read the section on charging the battery before your first charge and ride.
If you think the battery may be damaged, DO NOT attempt to charge it.
Do not charge the battery with any charger other than the AMX battery charger that shipped with your AMX.
Before charging make sure you place the battery on a heat and fireproof surface. Glass, ceramic or stone would be ideal.
If you have any questions please contact our support team.
Information. There is the potential for damage to your AMX motor, battery or controller.
Do not use your AMX battery for any other purpose other than to power your AMX.
Do not expose your AMX battery to excess heat or direct sunlight.
Do not expose your AMX battery to liquid or cleaning fluids.
Do not use your AMX battery if it is obviously damaged, giving off excess heat or the casing has any changes from its normal colour.
12.0 AMX Battery Charger Safety
The following points will cover generally:
Safety when using the AMX charger.
Care and precautions with your AMX charger
How to use the AMX charger
DANGER! Be very careful when using the AMX charger. There is risk of electric shock and death if these warnings are not adhered too.
Make sure the charger is not damaged before you plug it into the mains before each use.
Any damage should be taken seriously and the charger should not be used.
Do not use the charger outdoors and make sure it is not left unattended when plugged in indoors.
The charger should only be connected to a professionally installed mains outlet that matches the specification of the AMX charger.
The charger should never be exposed to any liquids. These can cause a short circuit.
Caution! Using the charger incorrectly can lead to the charger potentially malfunctioning and a short circuit. In turn this could lead to fire. Take care when using your AMX charger.
Do not use if the charger is damaged.
Use the charger in a dry area. Liquid should never be near the charger. Do not clean the charger with liquids or sprays.
Never leave the charger unattended whilst it is charging your AMX battery.
If you must leave the charger whilst it is in use, ensure that it is in a room where a working smoke alarm is present.
Do not modify the charger in any way.
The charger should only be repaired by Analog Motion.
Information. To avoid damage to the charger or battery during use, take note of the following points.
Use only on a fire proof surface such as glass, ceramic or other heat proof material.
Do not use the charger for any other purpose other than charging the AMX rechargeable battery.
Do not leave the charger plugged in after you have finished charging your AMX battery.
To remove the plug from the wall, pull on the plug itself and not on the cable.
This will avoid damage to the charger.
Read the additional notes on the charger casing before use.
13.0 Charging the battery
Information. Carefully read the sections titled AMX Battery charger safety and AMX battery safety before using your AMX charger.
Step 1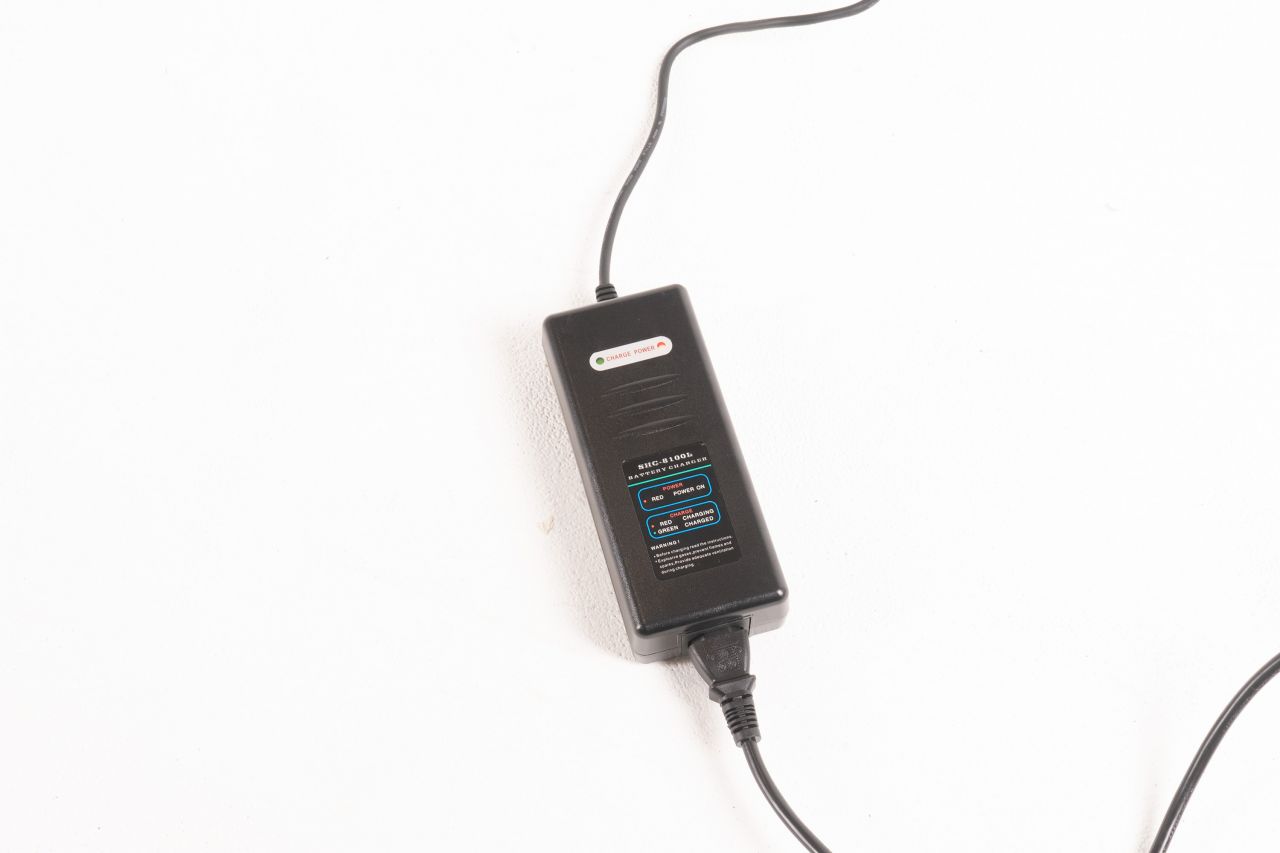 Insert the mains plug into the main housing of the charger, and plug the mains plug into a correctly installed mains outlet that is suitable for the plug on the mains plug lead.
Step 2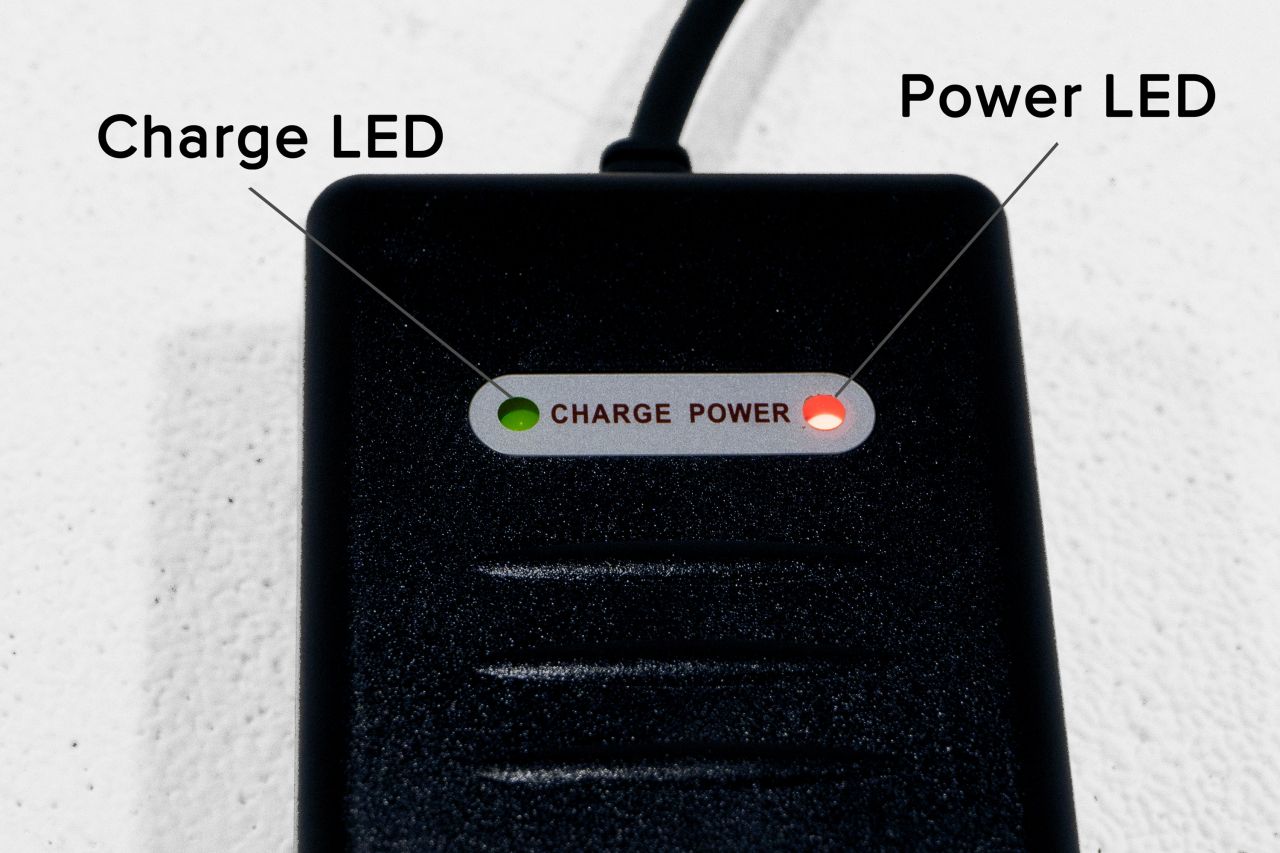 The charger has two statue LEDs, that signify both power and the charging status. When you first plug in the charger the power LED will be red and the charge LED will be green.
Step 3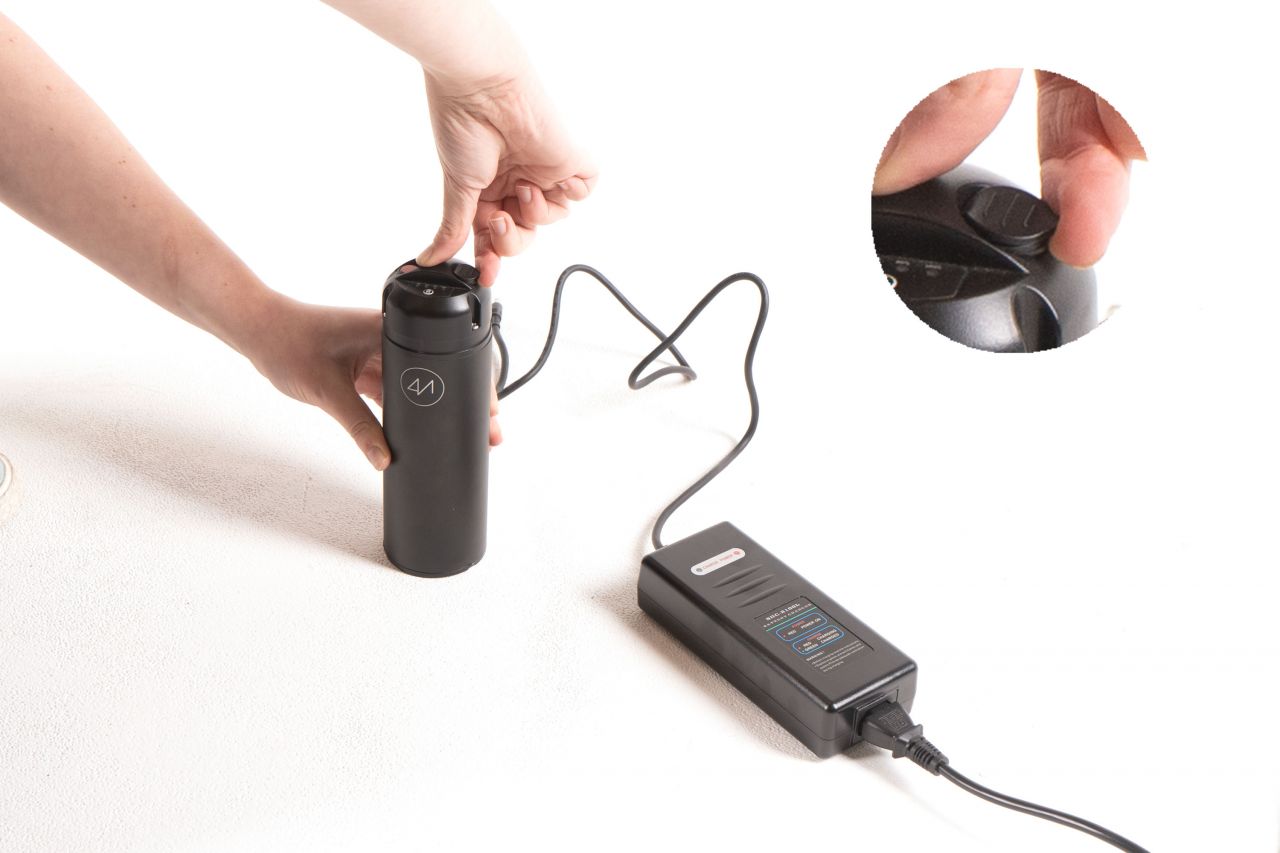 Next open the charger port on the top of the battery.
Step 4
Insert the charger into the battery as shown.
Step 5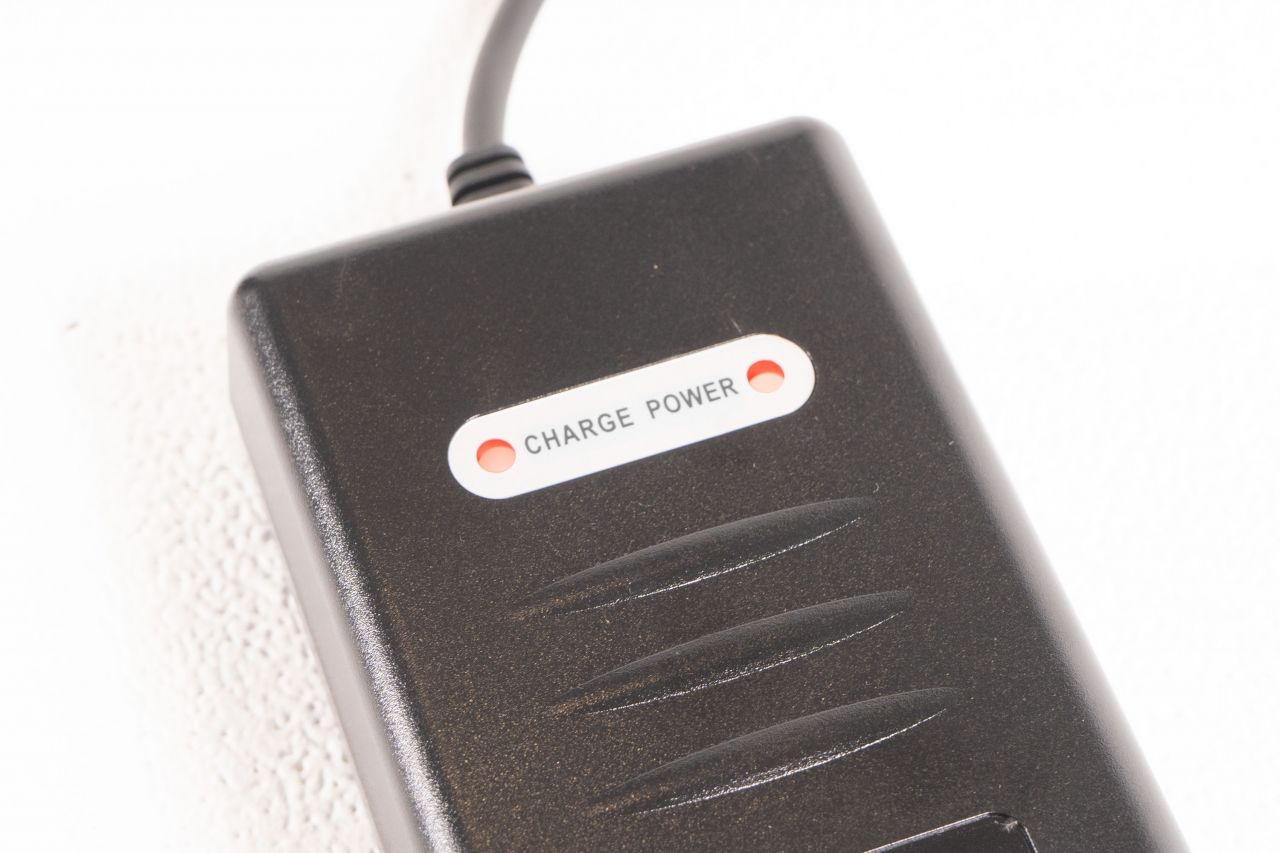 The green LED will change to red when you plug in the battery. This shows that the battery is charging.
Step 6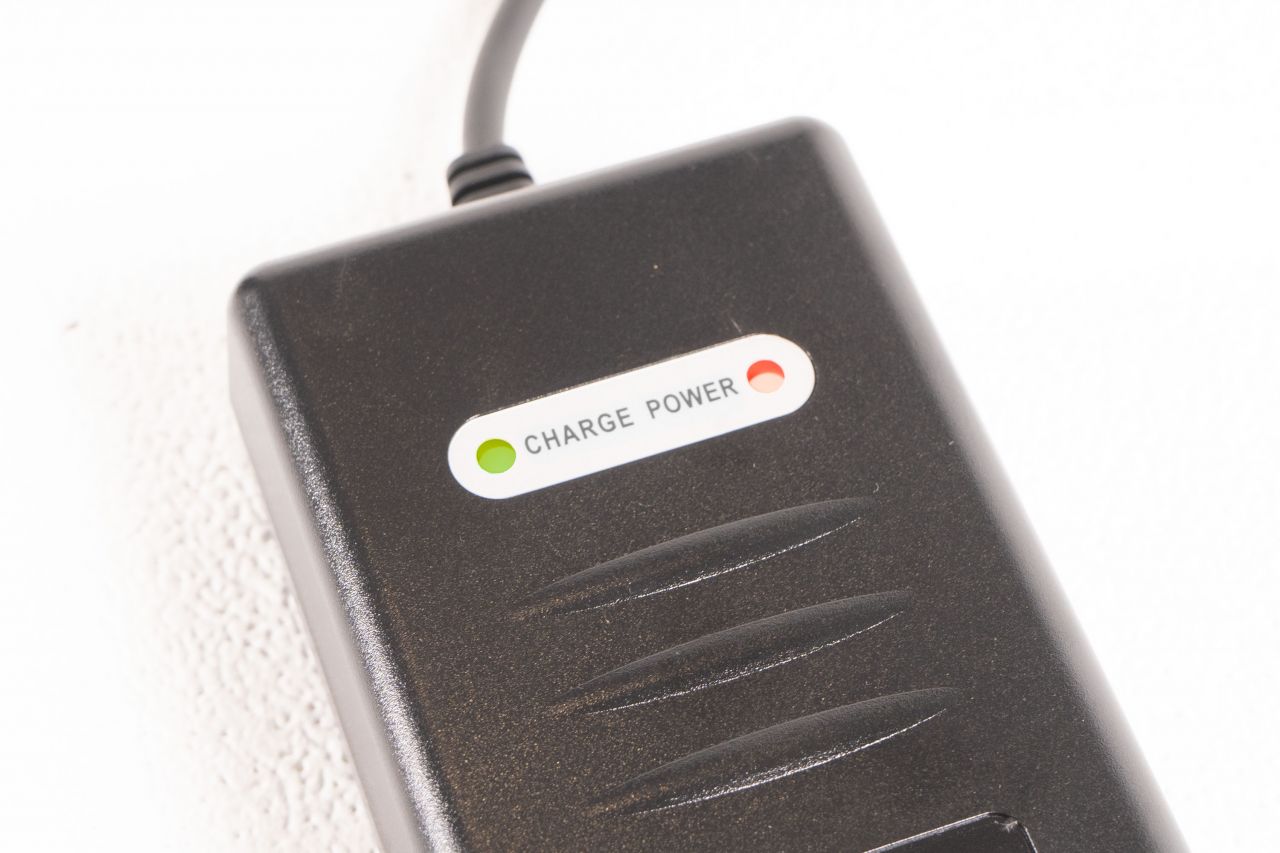 When the charge LED changes back to green the battery is fully charged and ready to plug into your AMX.
Information. A full charge of your AMX battery can take up to 6 hours. It will depend on a number of factors: the starting battery charge level, battery temperature and the ambient temperature where you are charing the battery.
14.0 Unboxing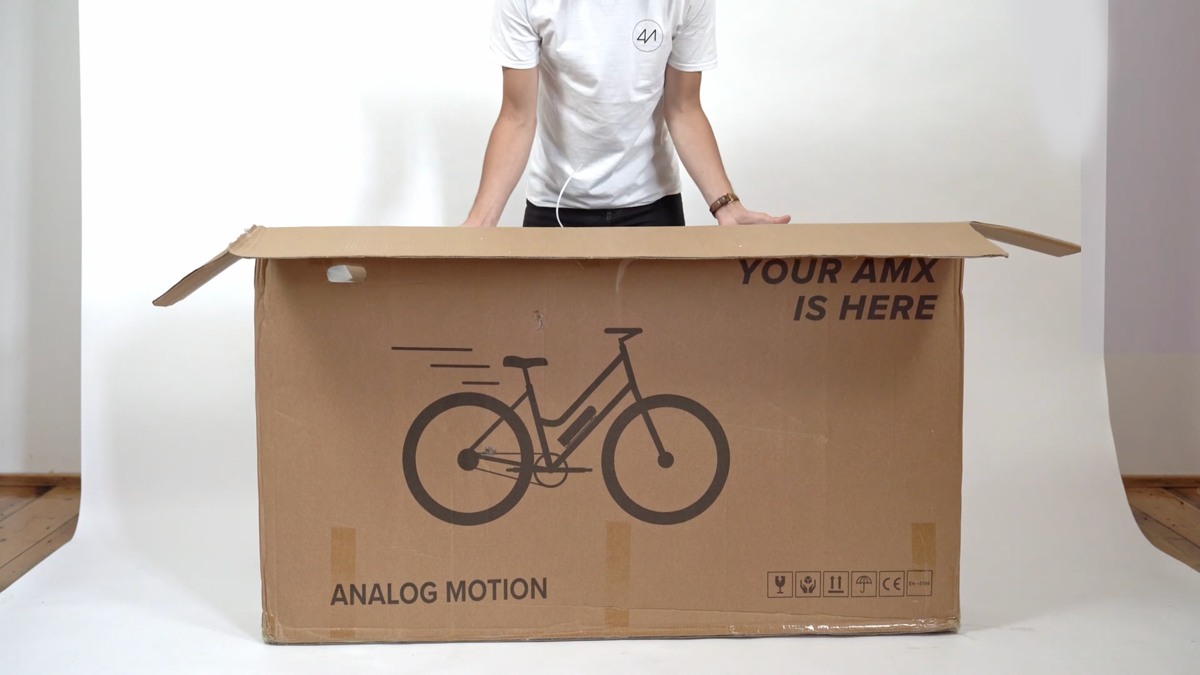 Carefully open the box and remove the bike. Using scissors, carefully cut any zip ties that are connecting the components of the bike together.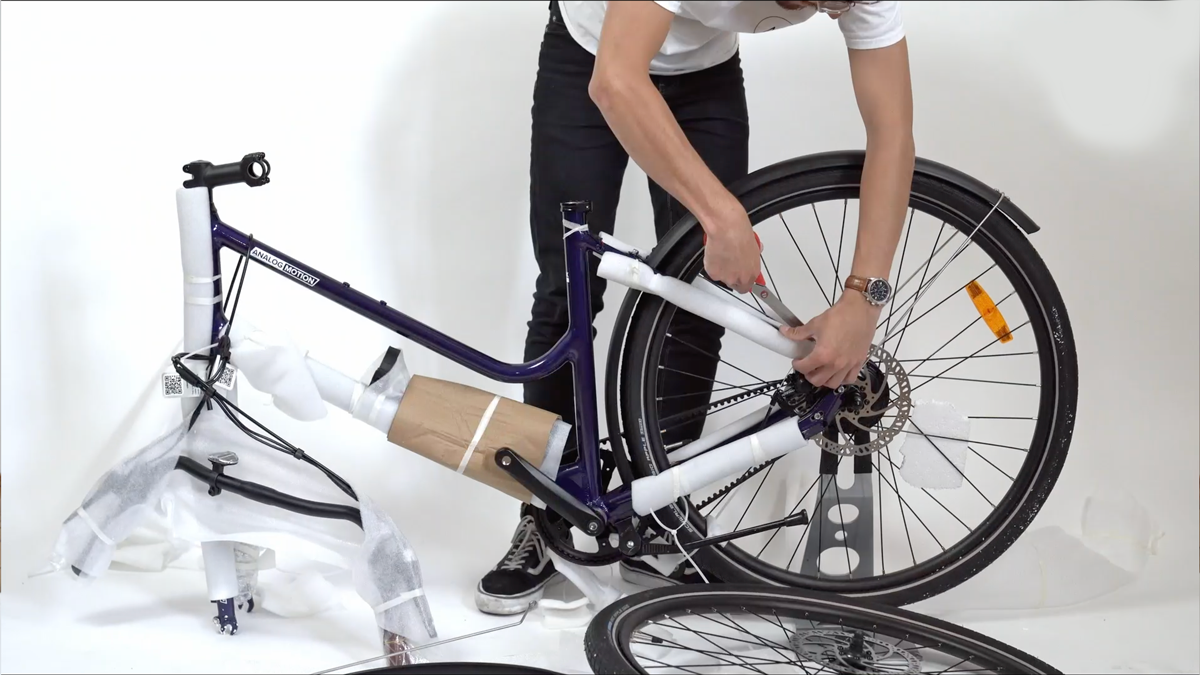 Remove any other packing material from the frame using your hands, the paper will tear as you pull it.
15.0 What's in the Box
An 85% assembled AMX high-performance e-bike

AMX Seatpost

The ancillary box that contain:

Your AMX Toolkit
A quick easy setup guide with a QR code linking to the instructions
Your AMX pedals
And your AMX battery charger and cable
And any accessories you've ordered with your AMX

Your AMX Battery
16.0 Toolkit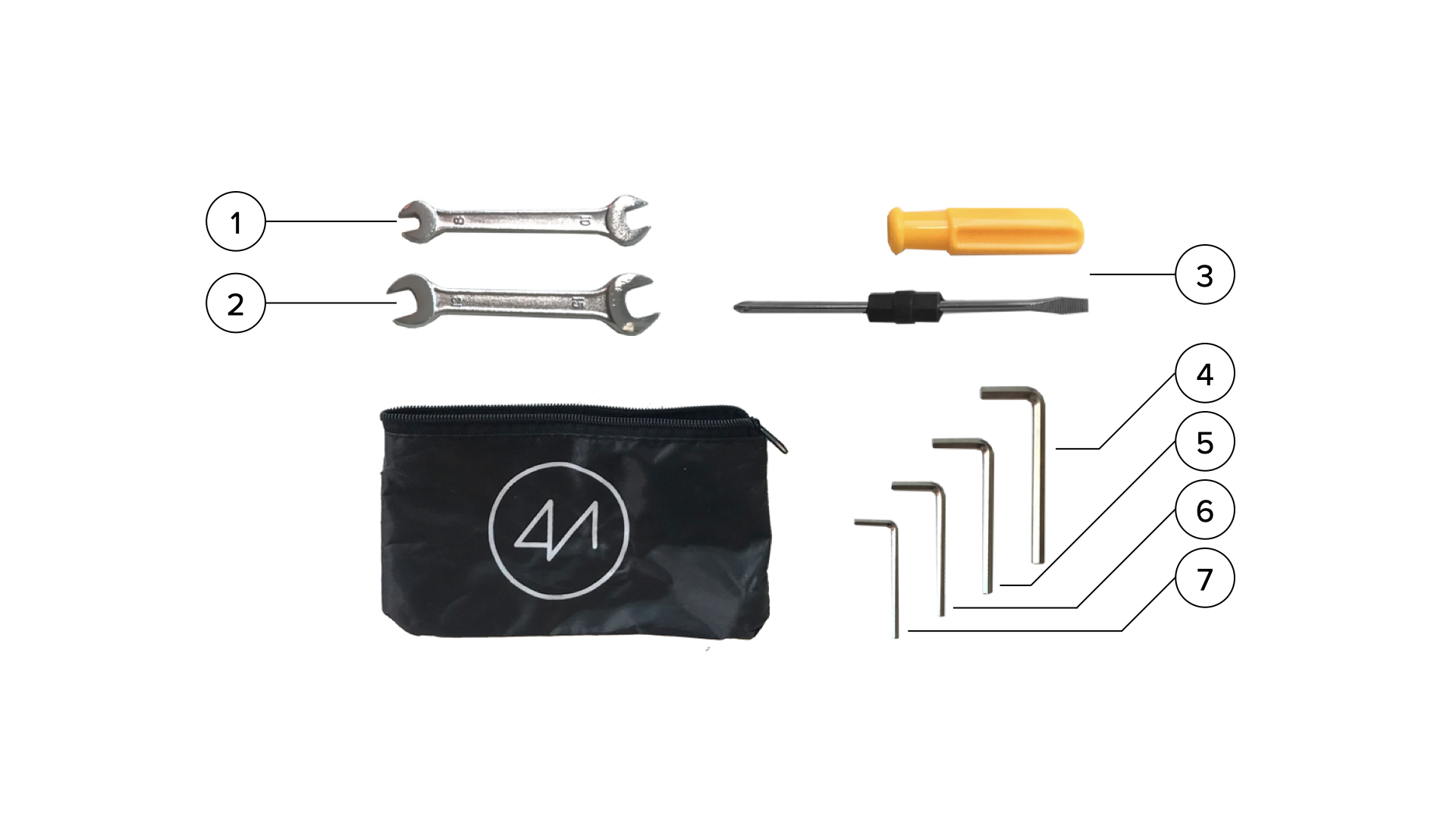 1. 8mm / 10mm Spanner
2. 13mm / 15mm Spanner
3. Screwdriver
4. 6mm Hex Key
5. 5mm Hex Key
6. 4mm Hex Key
7. 3mm Hex Key
17.0 Display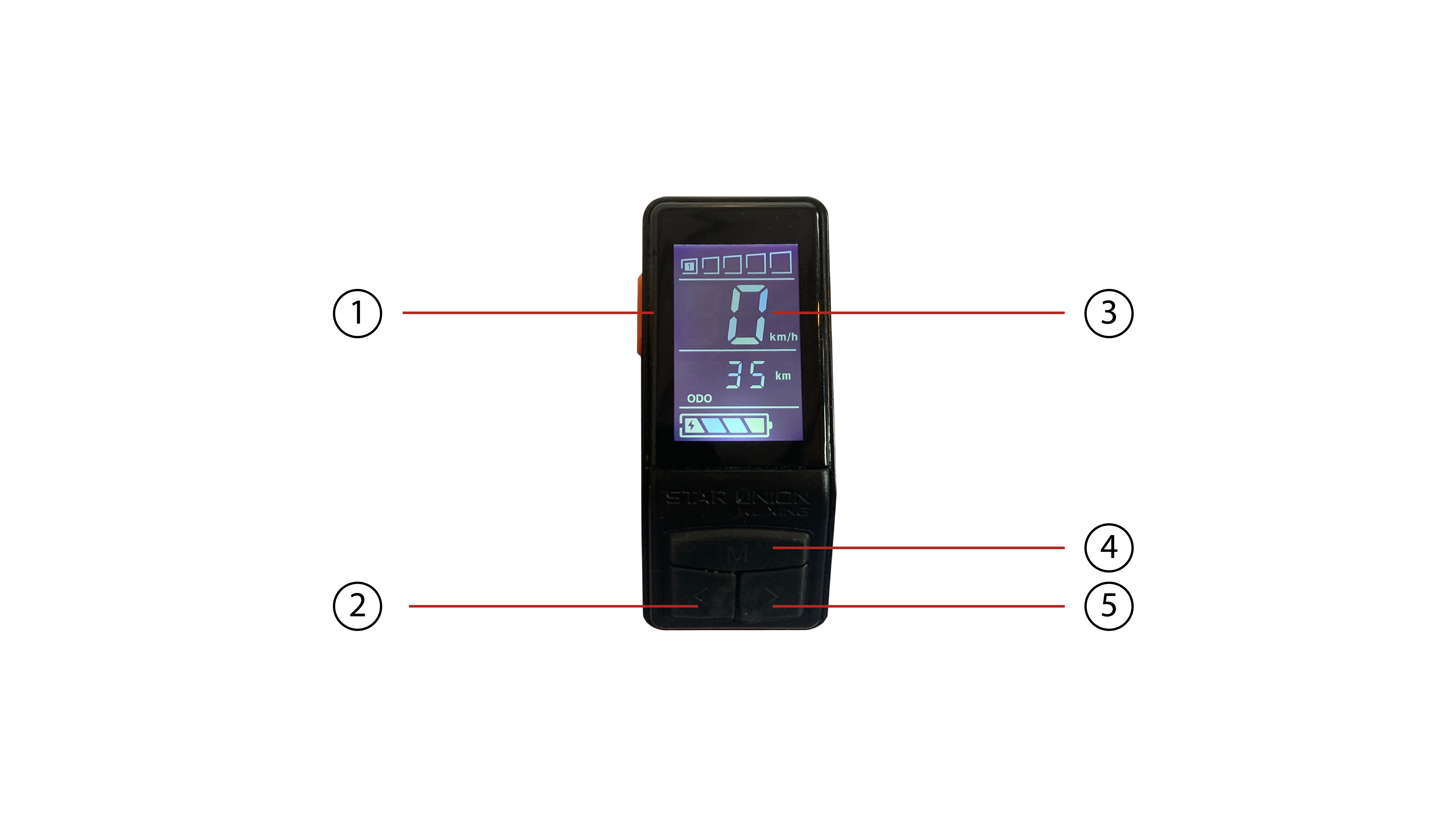 ON/OFF button -

To turn on the display, hold the on/off button (1), once the display is on you can also use this button to turn the lights on/off

Left arrow -

Use the arrows to change your assists level

Display
M Button -

Press the M button to change the information on the display

Right arrow -

Use the arrows to change your assists level

.

Press and hold to activate the walk-assist 4mph (6km/h)
Assist levels
Speed display
Odometer
Battery level
Speed unit
Odometer units
Lights on/off
18.0 Checks before every Ride
Check 1: Axle nuts and bolts
Check all nuts and bolts on your AMX before you ride. Pay careful attention to the nuts holding the wheels in position. Are they tight?
Check 2: Tyres and wheels
Check your tyres for the correct pressure. The minimum and maximum pressure in Bar and PSI are printed on the tyre sidewall. The correct tyre pressure will help you to avoid punctures and allow you to have a more stable and efficient ride than under-inflated tyres.
Check 3: Brake test
While you are standing with your AMX pull both brake levers firmly. The levers should not touch the handlebars and should only move a small distance before the brakes are engaged. If you have any concerns contact our support team.
Check 4: Essentials
Before you ride make sure you take a spare inner tube, the Hex keys from your AMX tool kit, a tyre repair kit, and a small pump. These will all help you in the event of a puncture or any other minor maintenance issue.
Check 5: Stay secure
If you plan to leave your AMX somewhere public, make sure to take at least one D-lock with you (ideally two), to protect your bike from theft. Your local bike shop will be able to give you advice on which products are best. Thread the lock through your AMX frame and wheels and onto an immovable object. Whenever you leave your AMX in a public area make sure to remove the battery and take this with you. Some advice about securely locking up your AMX is available on the transport for London website https://tfl.gov.uk/modes/cycling/protect-your-bike-from-theft
Check 6: Be seen!
If you are heading out in the evening, it may be dark before you return. If it is dark then make sure you have the relevant lights and reflective equipment. Check your local laws for more details on what is required.
Check 7: Finally...
Before you begin your ride, lift both of the wheels off the ground and bounce the tyres to check they are inflated. Check if you hear any rattling noises and see where they are. You may need to tighten some bolts or screws. *
19.0 Cleaning your AMX
DANGER! There is the risk of electric shock and short circuit
Remove the AMX battery before cleaning.
Do not clean components with water or other liquids. 
Do not use any high-pressure water to clean your AMX. 
Do not charge your AMX while cleaning.
DANGER! There is the risk of injury from hot components
Make sure the disc brakes have cooled down before cleaning.
Ensure the motor and other components are cool before cleaning.
20.0 Storage of your AMX
Carefully read over the battery safety warnings before storing the AMX battery and AMX.
DANGER! Risk of injury from damaged battery
Do not drop or mishandle the battery.
If the battery is leaking or damaged move to a well ventilated area.
If you are planning not to use your AMX for a long period, the following points should be noted before storage to prevent damage to your AMX or degradation of your AMX battery:
Charge the battery to 60-80% of its capacity;
Remove the battery from your AMX before you store it;
Do not leave the battery in an area where children and animals can reach it;
Protect your AMX battery from liquids;
Store between the temperatures listed in the battery safety section. Ideally around 15°C;
Make sure that the battery is not exposed to temperatures listed in the battery safety section during storage;
If you plan to store the battery for over 3 months, make sure the battery is charged at least every 3-6 months. Again you should charge the battery to between 60-80% when recharging;
Do not leave the battery plugged into the charger for long periods when the battery is fully charged;
Make sure the charger is unplugged from the mains outlet when you have finished charging the battery up to 60-80%;
Make sure the battery terminals on the base are protected from short circuit. Use some insulating tape to cover the terminals if you are unsure;
To store the AMX:
Ensure your AMX is clean as per the cleaning page;
Protect your AMX from all environmental conditions: rain, snow, frost, dust and dirt during storage;
Make sure it is insulated from major fluctuations in temperature;
To keep the tyres in good condition, suspend your AMX by hanging it from its frame;
21.0 Disposal of your AMX
AMX Bicycle
Your AMX cannot be disposed of with household waste. The frame can be taken to a recycling centre or a private company that deals with recycling bicycles.
Battery, Motor and Wiring
The AMX rechargeable battery must be removed first and must be handled as hazardous waste.
22.0 Service Intervals
Your AMX will wear at different rates depending on how much you use it. If you do much greater mileage than average on your AMX you may find that you have to replace or service components more often. The timings below are purely a guide. The items marked with a 'B' you should be able to do by yourself, if you have some understanding of the components you are working with and a calibrated torque wrench. The items marked 'A' should be done by a professional bicycle mechanic. If you have any issues please contact our support team for more information.
Your AMX should only be serviced with genuine parts.
Never use any oil near any braking surface.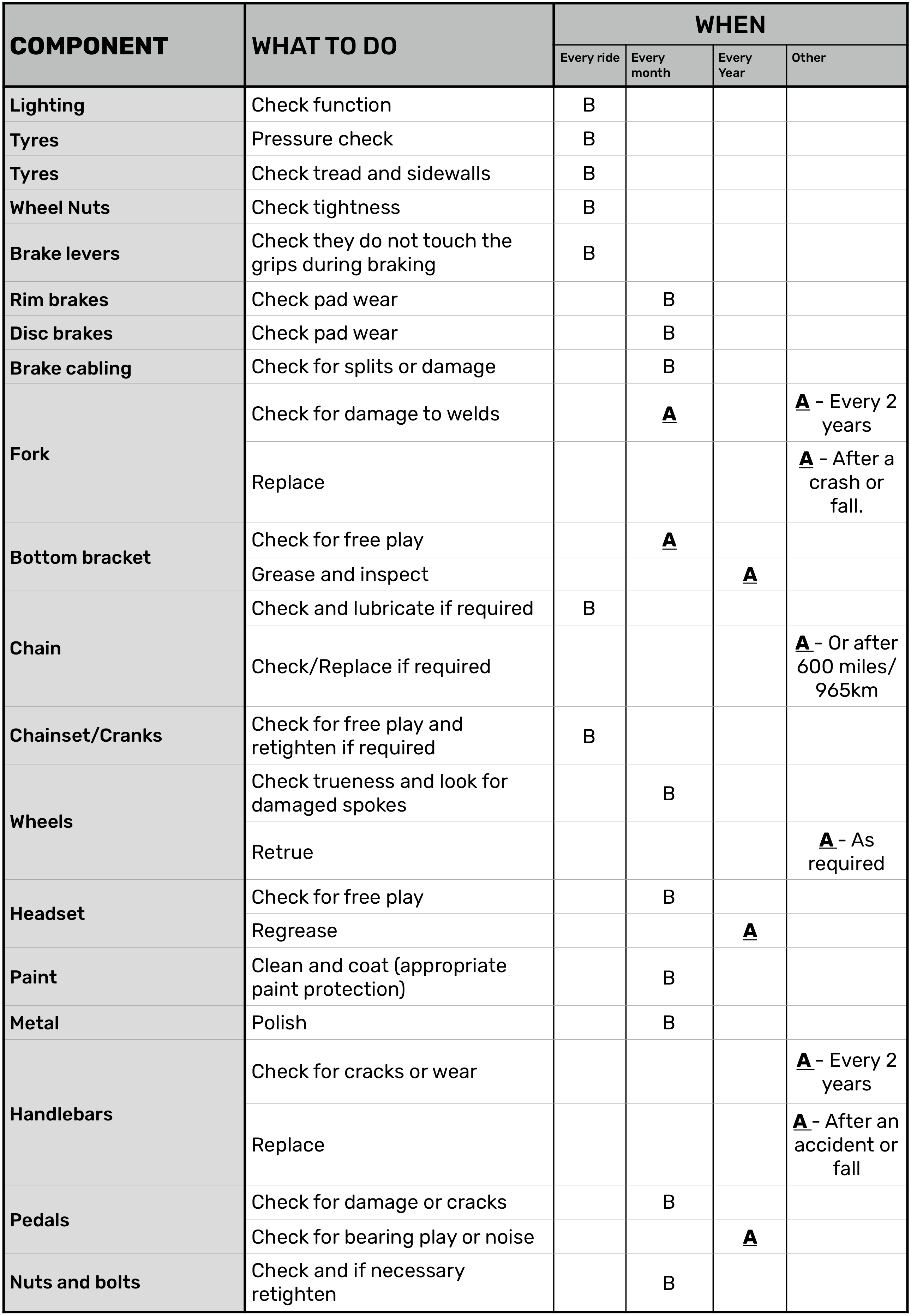 23.0 Recommended Torque settings
The following torque settings should be applied to the connecting components mentioned with a calibrated torque wrench. If you are unsure please have your AMX checked over by a professional bicycle mechanic.
| | | |
| --- | --- | --- |
| Component | Connection | Torque Value (Nm) |
| Front wheel | Front wheel nuts | 18 |
| Rear wheel | Rear wheel nuts | 33-45 |
| Bottom bracket | Bottom Bracket Cups | 35-50 |
| Crank Arm | Crank fixing bolt | 50 |
| Stem | 2x bolts onto fork steerer tube | 6 |
| Stem | 4x faceplate bolts onto handlebar | Max. 8 |
| Brake levers | Clamping bolt onto handlebar | 7 |
| Saddle to seatpost | Seatpost bolt under saddle | 15 |
| Seatpost | Seatpost clamp bolt | Max. 7 |
| Disc brake callipers | Brake calliper bolt at fork and frame | 6-8 |
| Disc brake callipers | Brake calliper alignment bolts | 6-8 |
| Disc rotor | Disc rotor onto hub | 2-4 |
---
---